10 Fun Things To Do Week of June 14th: Fishing, Drinks, Beats and MORE!
On.Miami proudly presents our newest feature, FUN10, a list of the top 10 things to do in Miami this week, and every week! Every Sunday, we'll drop a new FUN10, to give you a head start on your week and a heads up on what's going on over the coming seven days. Check out FUN10 every Sunday for the details on ten awesome events happening around town. It's a cool read, and a great way to get started planning your entertainment for the week.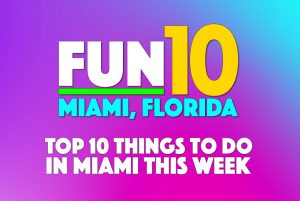 Due to the cancellation of so many regularly scheduled events in Miami – with more coming in every hour – we're focusing this week's edition of Fun10Miami on fun entertainment you can enjoy in the safety of your own home or while practicing safe 'social distancing' while the state begins to open back up.
FUN10 — ten ways for you to have fun in Miami, this week and every week, running every Sunday, only on your site for fun, free, local entertainment, On.Miami!
So what's on the FUN10 for this week? Read on …
I Remember Miami
What places in Miami stick in your mind while we self-quarantine in our homes? Do you remember how they looked and sounded? Do you remember how you moved around and through them? We want to hear your thoughts—literally!
Together with the Miami Book Fair, the Museum of Art and Design at MDC invites you to share your voice for "I Remember Miami", a new participatory artwork by the great Spanish artist Dora Garcia.
"I Remember Miami" asks members of the public to recall a specific location in Miami. As you walk through the space in your mind, describe your memories out loud and record your voice to create an audio portrait of that place.
Then, pick a photo, either of your current surroundings or of something that reminds you of the place you just described. You can record your story in any language.
This collection of individual memories, juxtaposed with present environments or evocative objects, will become "I Remember Miami", a unique "time capsule" that represents our city during an unprecedented time in our history.
————
LEARN MORE:
http://www.mdcmoad.org/iremember/
SUBMIT YOUR WORK:
http://www.mdcmoad.org/iremember/submit.aspx
————
Submissions are accepted through June 30, 2020. Follow the Facebook & Instagram channels of MOAD (@moadmdc) and the Miami Book Fair (@miamibookfair) for artist selections & the latest updates!
VKOC Kid's Summer Fishing Camp
Join Virginia Key Outdoor Center (3801 Rickenbacker Cswy Miami) for Kid's Summer Fishing Camp, beginning this Monday Jun 15!
This unique Saltwater Fishing Camp will teach participants (ages 8 and over) everything from Rods & Reels to Cooking Your Catch!  Experienced fishermen and women will help your children learn the most they can about fishing!  Best of all, they get to try out their new skills on a fishing boat!
2020 Summer Fishing Camp(s)
– June 15th – June 19th
– July 6th – July 10th
– July 27th – July 31st
– August 10th – August 14th
For more information, please visit https://www.vkoc.net/kid-programs/fishing-camp.
In-Studio Summer Art Camp
Art Thyme is looking forward to another safe and fun summer of camp. However, Due To COVID-19, Art Thyme will be implementing changes to their In-Studio Summer Art Camp to help create a safe environment for your child and our staff. They will also be offering a Virtual Camp that runs parallel to our in-studio camp and features select in-studio camp projects.
What hasn't changed is that your little will have a wonderful time exploring art mediums and creating awesome projects. Choose from morning, afternoon or full day sessions. For details visit: http://artthyme.com/index.php/camps-and-classes/summer-art-camp
Virtual Open Day at Abbey Road Institute
Whether you're interested in music production, sound engineering, or both, Abbey Road Institute's Virtual Open Day is the best way for you to orientate yourself on your future career in music!
Thursday, June 18th from 8 pm until 10 pm EST, Abbey Road Institute opens their virtual doors for you to learn more about their programs, meet their award-winning team, and to see their extensive facilities here in Miami.
They'll be streaming live to Youtube and Facebook but if you prefer to interact with them, you can join us on Zoom. To register, simply email us at miamivirtualopenday@abbeyroadinstitute.com and you'll receive your personal invitation to join our Zoom Virtual Open Day.
During the 2 hours, our staff will provide information about the programs, you'll be taken on a virtual tour of our facilities and attend our Production Masterclass with Julio Reyes Copello, our Campus Director. There's lots of exciting information we want to share with you during those two hours!
In case you do have any questions beforehand, don't hesitate to reach out miami@abbeyroadinstitute.com
For more information, please visit https://www.facebook.com/events/612718709600458/.
TGIF Drinks at Santé Lounge Miami
Join Santé Lounge Miami this Friday Jun 19 from 5 – 8 p.m. for TGIF Drinks!
Enjoy a full bar with detailed bartenders who are ready to make you a drink. There is indoor and outdoor section along with a small 2nd floor private balcony.
Although not required, reservations are recommended for best seating.  Call (305) 989-7674
For more information, please visit https://www.facebook.com/events/456505478595951/.
Fair Food Drive-Thru
Experience a Fair Food Drive-Thru this Friday Jun 19 through Sunday Jun 21 from 4 – 9 p.m. at the Miami-Dade County Fair and Exposition (10901 SW 24 St. Miami).
Funnel cakes, elephant ears, turkey legs and more of your fair favorites are making their way to the fairgrounds for a Fair Food Drive-Thru experience.
For more information, please visit https://www.thefair.me/seedo-fair_food_drive_thru.php.
Brunch & Beats
Tired of the same old vibe in Wynwood? Do you crave the old school Hip Hop, Reggae and the Afro Caribbean vibes?
Brunch & Beats is the only place to be on Saturdays! Enjoy a day with great Caribbean cuisine, feel good music, delicious cocktails and a rare vibe curated by DJ KrazyMix this Saturday Jun 20 at Dukunoo Jamaican Kitchen (316 Northwest 24th Street Miami) from 11 – 4 p.m.
Draw a line & live above it.
For more information, please visit https://www.facebook.com/events/829480180796803/.
Bike to Groovy Grove Park
Join Miami Bike Tours and Dade Heritage Trust this Sunday Jun 21 from 10 a.m. – 12 p.m. for a Bike to Groovy Grove Park.
When it comes to urban Miami neighborhoods, Grove Park is a jewel – nestled north of Marlins Stadium and south of the Miami River. Beautiful homes, quiet streets and a sensibility of old Miami all make Grove Park a beautiful place to reside. Our ride goes through Little Havana, too!
For more information, please visit https://www.facebook.com/events/1119118928429629/.
Make Music Miami 2020
Make Music Miami celebrates the joy and power of music by giving community members of all ages, creeds, and musical persuasions the chance to experience music together on one specific day each year, June 21. Both amateur and professional music making is encouraged, empowering individuals to seek out new ways to celebrate music in their community.
Want to perform? Want to host a performance or online event? Register as a Performer or Venue on our matchmaking platform: https://miami.makemusicday.org/
Full MMM details are available at http://makemusicmiami.org/.
ICA X MDD Family Day
Be sure to log online for ICA's first online Family Day this Sunday Jun 21 from 1 – 4 p.m.!
The museum is launching with an exciting animated film series, each paired with a how-to guide for creating animation at home. June 21st will showcase Dominique Monféry's Eleanor's Secret, which showcases the adventure of Natanaël, who discovers that the books that is he learning to read from come alive and he must protect the characters he has grown to love.
Learn more at icamiami.org.
Stay tuned to On.Miami, your site for fun, free, local entertainment for upcoming events in our weekly column, FUN10, every Sunday!
#Fun10Miami
Tess Abney is a freelance writer who was born and raised in the Quad Cities. She spends most of her time attempting to successfully raise three boys. In her free time, writing is her passion. Whether it is sharing local events and businesses with readers or sharing her thoughts on life, she finds comfort in the way words can bring people together.