10 Fun Things To Do Week of June 21st: Karaoke, Cabaret, Bridal Shows and MORE!
On.Miami proudly presents our newest feature, FUN10, a list of the top 10 things to do in Miami this week, and every week! Every Sunday, we'll drop a new FUN10, to give you a head start on your week and a heads up on what's going on over the coming seven days. Check out FUN10 every Sunday for the details on ten awesome events happening around town. It's a cool read, and a great way to get started planning your entertainment for the week.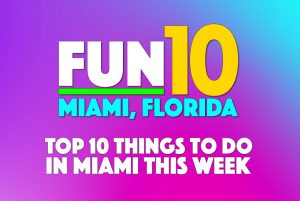 Due to the cancellation of so many regularly scheduled events in Miami – with more coming in every hour – we're focusing this week's edition of Fun10Miami on fun entertainment you can enjoy in the safety of your own home or while practicing safe 'social distancing' while the state begins to open back up.
FUN10 — ten ways for you to have fun in Miami, this week and every week, running every Sunday, only on your site for fun, free, local entertainment, On.Miami!
So what's on the FUN10 for this week? Read on …
Avenue 3 Miami Jukebox
Avenue 3 Jukebox is here!
Every Wednesday from 7 to 8 pm join Avenue 3 Miami on Instagram Live. Different musicians from the safety of their home will play Live to your favorite tunes.
Join Avenue 3 Jukebox this Wednesday Jun 24! For more information, please visit https://www.facebook.com/events/285884679073867/.
Happy Hour and Karaoke Thursdays at Santé
Head to Santé (1701 NW 112 Ave Suite 101 Miami) for Happy Hour and Karaoke this Thursday Jun 25!
Happy Hour runs from 5 p.m. – 12 a.m. and Karaoke from 9 p.m. – 12 a.m.
Can't join this Thursday?  No problem at all.  Santé has Karaoke every Thursday!!
For a table reservation call or text (305) 989-7674 or message Santé on Facebook!
For more information, please visit https://www.facebook.com/events/352890022258602/.
Silver Shorts
Support City Theatre by attending their Virtual Gala SILVER SHORTS LIVE on June 25th at 7:30pm.  Silver Shorts will feature 4 short plays, special guests from around the country, and a delightful evening of entertainment, while socially distanced.
If your ZOOM dance card is filled for Thursday, we will re-aire Thursday's LIVE performance again on Friday June 26, Saturday June 27, and Sunday June 28 @ 7:30pm.
With theatres shut down all across our county, City Theatre is asking for your support.  Buy a $25 ticket to watch the show and then we encourage you to make an additional donation to City Theatre.
For more information, please visit https://www.facebook.com/events/691930728050465.
No. 3 Social Funk It Friday
Funk-It-Friday each and every Friday!
The best Friday Night Party in Miami…
Just keeps GETTING Better
Music by
Patrick M
Padraic Carey Opening Set)
Voted Miami's Most Loved Music Venue 2018
https://www.timeout.com/miami/things-to-do/love-miami-awards-winners-2018
Southbound Hospitality's No.3 Social, a rooftop lounge that takes Wynwood's social scene to new heights. This exciting concept pays homage to street foods from around the world, while incorporating the flavors of Florida. The bar program features vibrant homespun cocktails inspired by local ingredients, an eclectic wine list, and locally crafted beers.
Never A Cover. Always A Vibe.
The only Rooftop in Wynwood
Doors Open 4pm
Social Hour 4pm-7pm.
Drink & Menu Specials
We go late!!!
Book Your Birthday or Special Event 917.304.5755
For info…
Filmgate Go Friday
Filmgate Miami (168 Southeast 1st Street Miami), Women in Film and Television and Common Thread Development presents FILMGATE GO FRIDAY with Maria K Chavez this Friday Jun 26 from 5 – 7 p.m.
FILMGATE GO FRIDAY is a monthly event, where successful media executives share the road to their success in the industry. Bring your business card.
Free for FilmFate Miami/WIFT members, $15 for non-members
$5/flat vallet available with validation.
About Maria
Unbeknownst to me, an exciting journey in the Film/Entertainment Industry began after I
graduated from Florida International University with a BFA in Theater and a BA in French circa
1983, since my plan was to continue in the Theater, my first love.
While I was acting, directing, producing or directing theatrical productions with the "Hot
Property" Theater Company, I began working on Print, Commercials, TV & Films productions as
an extra, actor, producer, production manager and production assistant to supplement my
income and at the same time enjoyed the creative and fascinating environment.
In 1985, I was catapulted into location scouting on the TV Series "Miami Vice" Season 1, when I
began working as PA for the Visual Consultant of "Miami Vice", Gusmano Cesaretti, a renown
photographer, Michael Mann's eyes and ears. By Season 2 of Miami Vice, I was a full-fledged
location scout and subsequently became the Location Manager for the following three seasons
of "Miami Vice". I am pleased to be in this distinctive iconic gang as a "Five-year Miami Vice
Survivor".
Among credits as a Location Manager:
are "The Specialist", "Bad Boy 2", "Magic City Seasons 1 &2", and "Bloodline" S1-S3, a Netflix Original Series. As a location scout, I have traveled extensively to the Caribbean, Central America, Mexico and various areas in the United States. Credits as a Production Manager for Florida Units are "Manchurian Candidate", "Sweet Home Alabama" and "I Love You Phillip Morris" and various TV Commercials. In 1990 -2004, Adolfo Alvarez Calderon Fabio Arbor & I ran "We Shoot'Em Location and Production Services located at the historic Biltmore Hotel.
Other Activities:
President of The Florida Film Production Coalition 2007-2010
Teacher of Location Scouting & Management Courses
Member of Film Florida
Member of The Teamster Local 769.
Ricky Valido Live at Scully's Tavern
Hey Miami, do you need some live music in your lives?
Ricky Valido performs live this Saturday Jun 27 from 9:30 p.m. – 12:30 a.m. at Scully's Tavern (9809 SW 72nd Street Miami).
For more information, please visit https://www.facebook.com/events/3253634017999465/.
Virtual Summer Cabaret Concert Featuring KEBA
Join Deering Estate on Facebook Live as they welcome back fan favorite Keba Music to perform from Deering Estate for a Virtual Concert as part of our Summer Cabaret Series.
A Trinidad-born artist with rhythm in her blood, Keba's soul-flavored songs are an exploration of becoming a self-made American woman. Her playful yet powerful lyrics are an anthem of empowerment and inner strength.
Reminiscent of classic artists like Whitney Houston, Aretha Franklin and Chaka Khan, Keba's voice has captivated audiences around the world. Her songs are a sensual fusion of Pop, R&B and Soul.
For more information, please visit https://www.facebook.com/events/632068384317218/.
HGS Lyrical Reloaded EP Listening Party
You're invited to vibe with HGS Lyrical and friends to celebrate the debut of her EP "RELOADED" that will be available on all purchasing and streaming platforms. Come experience high vibrations, crystals, and more!
The HGS Lyrical Reloaded EP Listening Party will take place this Saturday Jun 27 from 7 – 11 p.m. and The Clutch Bar (20348 Northwest 2nd Avenue Miami).
Hookahs available for $30.
Pull Up and Catch Live Performances by:
Paradoxical Sage
Charlie T
Birdy Bird
Stony F Tony
Money Meish
Purchase your pre-sale tickets online now
https://hgsreloaded.eventbrite.com
Limited edition merchandise will be available!
Rides and Coffee at Detail Garage
Detail Garage's (3901 NW 77 Ave Miami) Rides and Coffee will take place this Sunday Jun 28 from 9 a.m. – 12 p.m.
As always, show up early for a good spot! Be prepared to spend your weekend like a boss. Represent at the baddest auto detailing support store in beautiful Miami-Dad County!
Come out for music, live demos, raffles, sales, coffee, donuts and so much more!
For more information, please visit https://www.facebook.com/events/258368291930131/.
The Miami Bridal & Quinceanera Experience 2020
The Miami Bridal & Quinceanera Experience 2020, formally known as Fashion Week, is happening this Sunday Jun 28 from 1 – 4 p.m.
First showcased at Briza On The Bay with one of the top retailing stores in history "Macy's", the Miami Bridal Experience has hosted shows averaging two to three times a year for brides and quinceaneras to visit their wedding professionals from several categories for the BIG day. They have exceeded their expectations with a guest expectancy of 600 or more guest. They also have been featured in Miami's most high scale publications and have partnered with outstanding sponsors.
This event will include appetizers (while supplies last), prices, swag-bags, live music, fashion show, photo booth fun and so much more!
For more information, please visit https://www.miamibridalexperience.com/.
Stay tuned to On.Miami, your site for fun, free, local entertainment for upcoming events in our weekly column, FUN10, every Sunday!
#Fun10Miami
Tess Abney is a freelance writer who was born and raised in the Quad Cities. She spends most of her time attempting to successfully raise three boys. In her free time, writing is her passion. Whether it is sharing local events and businesses with readers or sharing her thoughts on life, she finds comfort in the way words can bring people together.