10 Fun Things To Do Week of June 7th: Boats, Zoo, Museums and MORE!
On.Miami proudly presents our newest feature, FUN10, a list of the top 10 things to do in Miami this week, and every week! Every Sunday, we'll drop a new FUN10, to give you a head start on your week and a heads up on what's going on over the coming seven days. Check out FUN10 every Sunday for the details on ten awesome events happening around town. It's a cool read, and a great way to get started planning your entertainment for the week.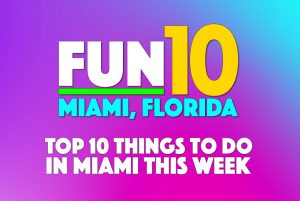 Due to the cancellation of so many regularly scheduled events in Miami – with more coming in every hour – we're focusing this week's edition of Fun10Miami on fun entertainment you can enjoy in the safety of your own home or while practicing safe 'social distancing' while the state begins to open back up.
FUN10 — ten ways for you to have fun in Miami, this week and every week, running every Sunday, only on your site for fun, free, local entertainment, On.Miami!
So what's on the FUN10 for this week? Read on …
Virtual LIVE at Frost Science: World Oceans
Experience Virtual LIVE@Frost Science: How the Super Bowl and Finding Dory Relate to Ocean Conservation this Monday Jun 8 from 2 – 3 p.m.
Featured Speaker: Andy Dehart, Vice President of Animal Husbandry and Marine Conservation, Frost Science
Join Frost Science for a special Virtual LIVE@Frost Science webinar, presented by the Miami Downtown Development Authority, in honor of World Oceans Day featuring Andy Dehart, our Vice President of Animal Husbandry and Marine Conservation, as we dive into the ocean conservation work of Frost Science.
Frost Science leads a number of ocean conservation initiatives ranging from habitat restoration in coral reefs and mangrove shorelines to removal of exotic fish species released from home aquariums.
Through their work, Frost Science has built exciting partnerships with universities, environmental non-profits and even a group of former military special forces divers, who are all working together to help save our ocean planet.
For more information, please visit https://www.facebook.com/events/466205817550934/.
Bird-Friendly Garden Photo Contest
Tropical Audubon Society invites you to submit photos you've taken of birds, butterflies and/or other pollinators in your Florida garden or yard. With rainy season upon us, it's also the perfect time of year to enhance your bird-friendly habitat by planting more natives in your yard, or in pots on your patio or balcony. The nectar, fruit and seeds they provide will attract birds year-round. We can't wait to see your photos!
Contest Rules
-Open to amateur photographers of all levels.
-Entries accepted June 1-30.
-Limit 3 entries per participant.
-Photos must be taken in your Florida garden or yard; preference will be given to native flora or fauna.
-Photos should be no larger than 5MB without watermarks and free of photo-shopped elements.
-300 dpi jpegs are preferable; smart phone settings should be at the highest possible resolution.
How to Enter
E-mail up to 3 photos depicting birds and/or other pollinators in your bird-friendly habitat to outreach@tropicalaudubon.org
Include the following information in your email submission:
First & last name
Name of the plant, bird or other pollinator in each photo if known.
County/Municipality
Social media handles (Instagram, Twitter, Facebook) to tag when the winner is announced
Timeline & Deadline
Submissions open Monday, June 1 through midnight, Tuesday June 30. Winners will be announced on Monday, July 20 at 12:30 p.m. across our social media platforms (Instagram, Twitter, and Facebook).
Judging
Photos will be judged on technical quality, composition, originality and how well the image showcases bird-friendly native plants and wildlife — birds, bees, butterflies, beetles or any other pollinators foraging in your green space. Judges will include TAS communications staff, professional photographers and photo editors.
Awards
1st Place: 1-year individual TAS membership, a $25 Gift Certificate to Galloway Farm Nursery toward the purchase of native plants and a copy of Attracting Birds to South Florida Gardens by James A. Kushlan and Kirsten Hines. The winning photo will also be published in our TAS e-newsletter and social media pages.
2nd Place: 1-year individual TAS membership and a $25 Gift Certificate to Galloway Farm Nursery toward the purchase of native plants. The 2nd Place photo will also be published in our TAS e-newsletter and social media pages.
3rd Place: $25 Gift Certificate to Galloway Farm Nursery toward the purchase of native plants. The 3rd Place photo will also be published in our TAS e-newsletter and social media pages.
Copyright Release: Your participation grants TAS full permission to freely use your photos (with credit to the photographer) for conservation messaging on various TAS platforms.
Always remember to practice ethical bird photography! Learn more about how to be an ethical birder: http://ow.ly/sRnt30qH902
Visit this website to download a pdf of these Contest Rules:
PHOTO:
The native South Florida Firebush is a nectar source for the Ruby-throated Hummingbird.
Photographer: Gary Robinette
Take-Out or Dine-In with Whisk
Make a dinner date at Whisk Gourmet this Tuesday Jun 9 from 6 – 9 p.m. and, in turn, Whisk will feather the proverbial TAS nest with 10 percent of its dinner revenues. Whisk is presently offering Take-out, Curbside-delivery or Dine-in options (dining room seating is limited, however, due to social distancing guidelines, so dine-in reservations are required).
No matter how you choose to order, enjoy Chef Carlos Montenegro's bright, boldly flavored seasonal cuisine, and delectable house favorites such as Roasted Cauliflower with Walnut Pesto, Filet Mignon Salad and Buttermilk Fried Chicken.
Whisk helps TAS protect all the places South Floridians cherish: Biscayne Bay, Florida Bay and The Everglades. The Birds profusely thank Whisk's ownership team for so generously and gamely continuing this annual Summer dining series under our "new normal" scenario.
Save the Dates: July 14 and August 11 for two more opportunities to Take-out or Dine-in for the Birds!
This event takes place at Whisk Gourmet 7382 SW 56 Avenue Miami FL 33143
onsite free parking & valet service available @whiskgourmet
For more information, please visit https://www.facebook.com/events/3400071730022654/.
Miami Boat Rally 2020
Miami Boat Rally 2020 will happen this Friday Jun 12 – Sunday Jun 14.
This is a recreational nautical and sports activities for the family, to be held on June 12th, 13th, 14th, 2020 expecting to gather a hundred boats of different lengths in order to navigate safely in three stages from the city of Miami, passing through Key Largo, Islamorada and returning.
It is the stage to see in action the best, newest and most exclusive boats on the market and the right moment to start unforgettable summer vacations with your friends and family, through the incredible marine geography of South Florida.
For more information, please visit https://www.miamiboatrally.com/.
Orchids of South Florida
Florida is home to nearly half of the orchid species found in the United States. In South Florida, many tropical orchids have established by blowing over from the Caribbean, Central, and South America and Mexico and include globally endangered species. Through his online course, Fairchild's Orchid Biologist, Dr. Jason Downing will help you in identifying these natives when you are enjoying Florida's great outdoors. He will introduce you to living samples found around the garden, including orchids that are part of the Million Orchid Project. After a tour of Fairchild's native orchid collection and the orchid micropropagation laboratory you will become a steward of the Million Orchid Project.
This is class will be taught online using ZOOM ( https://zoom.us/ ), a FREE online video conferencing platform, on Saturday Jun 13 at 10 a.m.  All you need is a computer, internet access, a webcam, and a microphone. Details and login information will be sent prior to the class.
Instructor Bio:  Dr. Jason Downing has his Ph.D. in Biological Sciences, FIU, earned a bachelor's in biology and worked in a variety of research roles before enrolling at FIU to pursue a master's degree in environmental studies. Jason has dedicated his doctoral research to understanding how orchids are affected by global changes, including climate change and human movements. He has conducted research with the Smithsonian Environmental Research Center in Edgewater, Md., Chinese Academy of Sciences Yunnan, China. Prior to working at Fairchild, he served there as a graduate fellow, mentoring students and teachers.
For more information, please visit https://www.facebook.com/events/486223102104849/.
VKOC Welcome Back Tour
Virginia Key Outdoor Center is celebrating their reopening by hitting the water with their customers! Join them on Saturday & Sunday, June 13th and 14th at designated times for an all-inclusive donation based Coastal Safari!
A minimum donation of $10 per person is required. All donations will go directly to the pockets of our staff members who have been out of work since March 19th due to the Stay-at-home orders issued by the City of Miami.
We are limiting these tours to nine people.
$10/per person secures your spot on the tour.
Please bring cash if you'd like to increase your donation amount.
YOU MUST RSVP AT https://www.vkoc.net/book-now/guided-tours/
Times & Dates
Saturday, June 13th
– 10 AM – 12PM
– 1PM – 2PM
Sunday, June 14th
– 10 AM – 12PM
– 12PM – 2PM
– 6:30PM – 8:30PM (SUNSET VIEWING)
ABOUT THE TOUR
Discover Miami's coastal habitat. There is life of all shapes and sizes living in the sand, rocks, and sea grass beds of Virginia Key Beach North Point Park. Experience this spectacular habitat first hand from your kayak or stand-up paddleboard. We may stop at a beach or sandbar along the ask (subject to tide levels) This is a lighthearted, relaxing, fun paddle for all ages and skill levels.
Participants can expect to see things such as:
– Sea urchin
– Starfish
– Variety of fish
– Sea birds and coastal birds
– Manatees
– Eagle rays, and
– Giant iguanas
– Dolphins
Locals have always known about Virginia Key. One of few remaining natural areas in South Florida, Virginia Key has always been a local favorite for those in the know. Wrap up your morning on Lamar Lake with a tour of our lagoon. A nursery for numerous ocean species this salt water lagoon is home manatees, fish, birds, and even the occasional dolphin visit.
Discover Virinia Key, Miami's best kept secret from your kayak or paddleboard. Enjoy Miami like a tourist! After all we live here.
WHAT TO WEAR
Wear water shoes, or closed toe shoes you don't mind getting wet. Be ready to get wet as we may wade as far as waist deep to view the creatures. Bring a change of clothes for after and towel.
WHATS INCLUDED
– Guided Tour
– Souvenir photos (shared electronically)
– Private bathrooms and outdoor showers
– Parking in the VKOC lot
– Fun is FREE if you let it happen
MKM Drive Through Anniversary Celebration
Throughout the month of June, Miami Kids will be celebrating their third anniversary and they want to celebrate it with you – their readers!
Sharky, our friendly mascot, is going to visit you and your neighbor's house along with Super Why and Woofster from PBS Kids. Also, Safari Sam will be singing our NEW Birthday Song LIVE! You can invite your neighbors to come in front of your house on a drive-through and see our show and pick up their goody bag! All in a safe way and maintaining social distancing with All Around Entertainment!
We will visit one winner per weekend during the month of June. Each winner will receive the following items:
-4 tickets to the Frost Museum
-2 tickets to Young at Art Museum
-Educational box with smart sand or slime
-A giant, chocolate Sharky
-Beach toys
-Gifts from Pottery Barn Kids
-First aid kit pack from Nicklaus Children Hospital
-Two hours free class at School of Rock of Coral Gables
-$50 Gamecard or One Free Day at FunDimension's Summer Camp.
-2 single dance classes for the fall with Coconut Grove Ballet
-One free week of virtual camp with Centner Academy
-4 tickets to Zoo Miami
And much more!
They will also have 50 goody bags for all your neighbors in the block that follow us!
For more information, please visit https://www.facebook.com/events/850816018760658/.
Vizcaya's Main House Re-Opens
Following Miami-Dade County's New Normal guidelines, Vizcaya is now proud to open areas of the Main House to the public alongside its 10-acres of formal gardens starting Thursday, June 4, 2020.
There are also new visitors regulations in place to support the health and safety of our community.
To minimize touch points and monitor onsite capacity, all visitors must reserve tickets online in advance of their visit. Tickets can be purchased by clicking HERE.
Rules for Visitors
Our community's health and safety remain the top priority. As such, Vizcaya will limit visitation to ensure that everyone can comfortably socially distance in the expansive gardens and grounds. In addition, visitors will be required to adhere to the following regulations while on property:
-Visitors and staff must wear facial coverings when entering Vizcaya, at the Admissions Booth, when using restrooms, and when inside the Main House. (with exceptions for children under 2 and those with chronic breathing conditions as described in Miami-Dade County Emergency Order 23-20).
-Facial coverings are strongly recommended in the gardens and required in areas where social distancing of 6′ or more is difficult. Those without a mask will not be permitted entry, except children under age 2 or those who have trouble breathing due to a chronic health condition. Masks must be tied at the back of the head or looped around the ears.
-Social distancing of 6' must be maintained, except for those who self-identify as a family and may visit the property in a group of under 10 people.
-Frequent touch surfaces will be regularly wiped down throughout the day.
-Restrooms will be cleaned at least every 2 hours and an attendant will be present who monitors that only individuals or individual family groups use them at a time.
-Narrow paths in the house and gardens will be restricted to one-way foot traffic.
Zoo Miami Now Open
Zoo Miami is happy to announce that they are now OPEN! Due to limited capacity, members must make a reservation and one-day tickets must be purchased online.
Zoo Miami (also known as The Miami-Dade Zoological Park and Gardens) is the largest and oldest zoological garden in Florida and the only sub-tropical zoo in the continental United States.
The unique climate in South Florida allows us to keep a wide variety of animals from Asia, Australia, and Africa, representing a broad mix of species that is unlike any other zoo in the country.
For more information, please visit https://www.zoomiami.org/.
Miami Children's Museum At Home
Miami Children's Museum has always been a leader in providing the best possible environment for children and families to play, learn, imagine and create. While the museum is temporarily closed, due to COVID-19, our goal is to provide you with their first-class museum experience right in your homes.
Museum At Home was created to provide families with content to spark playful learning. Creative activity helps build focus, discipline, problem solving, critical thinking, self-confidence, and risk-taking in children.
For more information on Museum At Home, please visit https://www.miamichildrensmuseum.org/museum-at-home/.
Stay tuned to On.Miami, your site for fun, free, local entertainment for upcoming events in our weekly column, FUN10, every Sunday!
Tess Abney is a freelance writer who was born and raised in the Quad Cities. She spends most of her time attempting to successfully raise three boys. In her free time, writing is her passion. Whether it is sharing local events and businesses with readers or sharing her thoughts on life, she finds comfort in the way words can bring people together.