10 Fun Things To Do Week of May 10th: Comedy, Salsa, Music and MORE!
On.Miami proudly presents a brand-new new feature, FUN10, a list of the top 10 things to do in Miami this week, and every week! Every Sunday, we'll drop a new FUN10, to give you a head start on your week and a heads up on what's going on over the coming seven days. Check out FUN10 every Sunday for the details on ten awesome events happening around town. It's a cool read, and a great way to get started planning your entertainment for the week.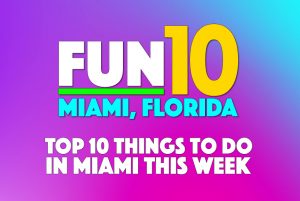 Due to the cancellation of so many regularly scheduled events in Miami – with more coming in every hour – we're focusing this week's edition of Fun10Miami on fun entertainment you can enjoy in the safety of your own home or while practicing safe 'social distancing'.
FUN10 — ten ways for you to have fun in Miami, this week and every week, running every Sunday, only on your site for fun, free, local entertainment, On.Miami!
So what's on the FUN10 for this week? Read on …
Virtual Comedy Open Mic at Villain Theater
Social distancing can't stop the stand-up comedy! The fact of the matter is that we won't be able to perform on stage for a while, so here is your opportunity to test out the virtual arena. Those who display strength on this medium *will* have the potential for future bookings for digital shows.
How does it work?
1)Every Tuesday at 1 PM Villain Theater will drop the link to a slotted.co sign-up page on their Facebook page, as well as on their social media channels
2) You will sign up (spots are limited)
3) You will confirm your email (important to secure your spot)
4) You will receive a Zoom login code
5) You will sign on at 9:10PM
6) You will perform!
Q+A
Q: What if I just want to watch?
A: You are more than welcome to watch if you aren't performing, actually we encourage it! All of our streams are on Youtube.com/VillainTheater
Q: Will my set stay up forever?
A: This has varied, but please let us know if you *do not* want your video to stay up, we will make sure to edit it out or unlist the link entirely (case by case)
Q: How much time?
A: 5 minutes, we'll give you a heads up in the zoom chat when you have 1 minute left
Q: Do I have to keep it clean?
A: No, but remember your mom could be watching, but she could also curse like a sailor too. Who knows! Ahoy! (but def no hate speech, that's not cool)
Q: Do I need any specific technical gear?
A: If you have a ring light or mic, that's dope. BUT, a nearby lamp and your phone/laptop mic works too. Just make sure we can SEE and HEAR you. That's why we have you log on early.
Please message Anastasia Pavlinskaya if you have further questions
Online Salsa Classes with Karibe Dance Studio
Learn how to dance Salsa with Karibe Dance Studio online straight from home!
The good news is that although the studio is closed (for now), everyone that has been wanting to learn that lives outside Miami can finally do so!
•Beginner's Footwork Progressive Course
>>NO EXPERIENCE NECESSARY<<
Starting May 18th
Monday's & Wednesday's at 7:00pm (EST)
2 weeks (4 classes) = $28
•Beg/Int (Level 2/3) Footwork Progressive Course
Starting May 12th
Tuesday's & Thursday's at 7:00pm (EST)
2 weeks (4 classes) = $28
•Intermediate/Advanced Open Sessions
Starting May 12th
Tuesday's & Thursday's at 8:00pm (EST)
2 weeks (4 classes) = $28
Class Access: We will send link to our Zoom classes to the email that you registered with Eventbrite, if you have any questions please send us an email to info@karibedancestudio.com.
Don't want to pay through eventbrite with fee? No problem, send us an email and we will give you our cashapp or zelle.
All classes are RECORDED, if you miss any class we can send it to you.
Virtual Music Under the Stars
On May 13th, at 6PM Miami Lighthouse for the Blind acclaimed "Music Under the Stars: Bon Appétit Miami" goes virtual, starring our very talented Miami Lighthouse Musicians. This special event promises a delightful program of popular music that will lift your spirits and touch your heart.
Click here to view the performance on May 13th at 6pm: http://www.miamilighthouse.org/VirtualMusicUndertheStars.asp
The event was scheduled for May 13th on campus to support Florida Heiken Children's Vision Program, which provides comprehensive eye exams and prescription glasses at no cost to underprivileged schoolchildren. Because of social distancing we are bringing the planned entertainment into your home.
We encourage you to make a donation and support our Statewide Florida Heiken Children's Vision Program by visiting our Donate Now page at miamilighthouse.org
For the "Bon Appétit" portion of the program, we hope you will consider supporting one of our dedicated local restaurants by ordering in something delicious to enjoy while you watch. Our supporting restaurants include: Caffe Abbracci, Perricone's Marketplace, Brazilian Grill, Black Market Miami, The Big Cheese, Sports Grill, Pollo Tropical, El Carajo, and The Halal Guys.
Haute Happy Hour Livestream with Haute Tension
It may feel like the end of times, but it's not the end of music! Haute Tension is taking this party online!
Join in the fun this Wednesday May 13 with Haute Happy Hour Livestream! Make yourself a drink and some snacks and join hosts, Alexandre and Monica, in their backyard as they provide you with some quarantine jams from 7 – 9 p.m.
Stream Via
Instagram: www.instagram.com/hautetensionband
Facebook: www.facebook.com/monicainmiami
YouTube: https://youtu.be/LzjUiKfq2wY
Haute Happy Hour is Miami's best mid-week party created by Miami based artists, for fans of music. See experimental local and touring live acts while relaxing/dancing on the colorful, sub-tropical Gramps patio. Hosted by Monica + Alexandre of Haute Tension, who also serve as the party's resident DJ's. **Due to the current state of affairs, Haute Happy Hour will be held online for the foreseeable future**
Wertheim @Home Concerts with FIU School of Music
Every Saturday night at 8PM EST, you're invited to enjoy weekly YouTube premieres from the comfort of your home with Wertheim@ Home Concerts.
Set your reminders! https://bit.ly/2xo4hbp!
The FIU School of Music will release previously recorded concerts performed by faculty, students, and guest artists who have presented at The Wertheim – our home. New concerts will be added to the playlist each week so be sure to check them out!
Let's come together to be inspired by the power of music during these challenging times and use music to heal and engage our community.
#FIUMusic plays on, but we hope to see you back at The Wertheim as soon as it is safe to do so!
Playlist:
https://bit.ly/2xo4hbp!
May 2: Tony Succar and Raices Jazz Orchestra
May 9: Amernet String Quartet with Roberto and Andrez Diaz
May 16: The Music of Colonial Latin America with the FIU Concert Choir and Choral Conductor, Maria Guinand
May 23: Viva España ft. Fredrick Kaufman's Guernica, FIU Festival Orchestra, pianist Kemal Gekic, and Spain's Camerata Antonio Soler
Greater Miami Youth Symphony's Facebook Music Festival
Join the Greater Miami Youth Symphony for a two-day extravaganza with over 30 student performances!
On May 16 & 17, they are offering students the opportunity to have a virtual performance. They have been working very hard, whether it's learning how to play the instrument or final recitals before college.
We will have it all! Program updates coming soon, so stay tuned!
This concert is free, but please consider making a donation here: https://gmys.org/gmys-donations/
Speak Up Online
Crowdcast: https://www.crowdcast.io/e/speak-up-miami
Join Miami Book Fair online for Speak Up, a creative writing program supporting the artistic and professional growth of teens. This program takes place Saturdays from 3 – 4:30 p.m.
In this virtual mini-series of creative writing workshops, teens will partner with experienced teaching artists to empower the creative writing process, from drafting to performance to publishing. performance boost literacy and empower youth in Miami through community-based writing activities.
The program is open to all teens, and is as free of charge as it is free of homework. No previous experience necessary!
Club Virtual Miami
Get ready for the BIGGEST virtual nightlife experience to hit your city! Mark your calendar: Sat May 16 @ 10PM!
For the first time ever, Club Virtual will provide a virtual space for you and your friends to join with over 1000 party goers in your city experiencing a high energy, engaging and lighthearted pleasure.
Everyone is welcomed including singles, couples, roommates & families!
We will have DJs playing a live mix of Mainstream, Club Anthems, EDM/House, Hip Hop & Reggaeton music live on camera!
The Concept is Simple:
• Participants will be able to access the virtual party with their webcams/cameras through our private Zoom Room. While we will be live streaming our DJ through Twitch.
• Everyone will see everyone, with the ability to engage in messages & mingle with others!
• You recreate a nightclub at home: Wear your best outfits! Light up your room: black-lights, Christmas lights, etc. Make yourself a drink & get ready to party!
• Be prepared for fun contests & challenges throughout the night.
• Time to shine! Show your best dance moves to thousands of participants!
Don't let your friends miss the party, so JOIN & SHARE the event with them!
Please AVOID GATHERINGS unless you are from the same house. The goal is to have fun while social distancing as we get through these tough times!
Early Bird Tickets: $5
Advance Tickets: $7.50
Final Tickets: $10
CLICK THE LINK TO GET YOUR TICKETS, LIMITED SPOTS AVAILABLE @: www.ClubVirtualMiami.eventbrite.com
*Once you purchase your tickets, instructions will be emailed to you!
Instructions/Setup: www.insideclubvirtual.com/setup
All front-line workers will also receive free entry to all our events! Please share a picture of you in your work clothes as a Instagram post/story with us tagged in it for your complimentary ticket.
Club Virtual events are not available to persons under the age of 18 or the age of legal majority in your jurisdiction of residence. By purchasing a ticket & entering the video conference, you agree to being of age & agree to Club Virtual's Privacy Policy/Terms of services: www.insideclubvirtual.com/terms-%26-condition
Website: www.insideclubvirtual.com
———–
Follow us on Instagram: @insideclubvirtual | www.instagram.com/insideclubvirtual
Join the movement: www.facebook.com/groups/666195194214010/
Follow us on Facebook: www.facebook.com/insideclubvirtual
For any questions or sponsorship info please email us at info@insideclubvirtual.com (Include City Name in Subject)
Miami Comedy Watch Party: Respect the Light
Miami Comedy returns to keep the comedy coming to you during quarantine. Join us Sunday nights as local comedians comment on comedy vi.
When we said we bring you the best LOL experiences in Miami we meant it…
Miami Comedy is a passion project that has been producing independent stand up comedy shows everywhere in the Magic city and now we are bringing it to you virtually.
Join local comedians Manny Garavito, Rudy Wilson and Cbas Mattar as we view The Ledge's Documentary on the Miami Comedy Scene in front of a live virtual audience.
Bring your grilling gloves because we're roasting the video, ourselves and the audience.
This presentation will be free and available for viewing via Zoom and FB LIVE!
We will do Q+A sessions after every watch party for those who are in attendance.
Make your reservations for access to the Zoom meeting link.
Help us make the Miami Comedy comeback bigger and better!
As we continue to bring comedy to the locals who love to laugh, we are raising funds for The Miami Comedy Comeback!
If you would like to support us to make your next live comedy show a success, please send any contributions to our GoFundme page: https://miamicomedy.com/comeback
Media
Watch us on Amazon Prime Video: https://amzn.to/30wK5wW
Watch the Miami Comedy Story: https://youtu.be/_O7AEtx95G8
About Miami Comedy
MiamiComedy.com has produced independent comedy events for years. Often imitated, but never duplicated. We are the original Miami Comedy production company finding authentic performers and curate entertaining live shows for people who love to laugh it up and enjoy the true art of stand up comedy in Miami. As seen on Amazon Prime Video "Respect the Light" the Miami New Times, Culture Crusaders, the Miami Improv and UNATION. We do pop up shows all over the Magic City, in all your favorite bars, restaurants, lounges and theaters! We make each experience unique with its own environment, drinking and dining menus!
Pauerful Sundays Online
Join Mr. Pauer for a "Pauerful Sundays" Dj set from his backyard on Sunday May 17 at 8PM to bring some happiness!
Get ready and put on your dancing shoes and connect to his channels Live!
Spread the word and see you at 8PM Miami! time
As a DJ & Musician whose income depends on social gatherings, this industry is one of the most devastated by COVID19 where we don't have a clear picture on when we will go back to perform at the clubs and social events in the future. Mr. Pauer will do his BEST to keep the party going and connecting with you with my live broadcasts.
If you are in a position to contribute to my "Tip jar" it will be appreciated! – Mr. Pauer
You can make a donation via:
CashApp: $mrpauer Venmo: @mrpauer
Stay tuned to On.Miami, your site for fun, free, local entertainment for upcoming events in our weekly column, FUN10, every Sunday!
#Fun10Miami
Tess Abney is a freelance writer who was born and raised in the Quad Cities. She spends most of her time attempting to successfully raise three boys. In her free time, writing is her passion. Whether it is sharing local events and businesses with readers or sharing her thoughts on life, she finds comfort in the way words can bring people together.