10 Fun Things To Do Week of May 24th: Art, Comedy, Cooking and MORE!
On.Miami proudly presents a brand-new new feature, FUN10, a list of the top 10 things to do in Miami this week, and every week! Every Sunday, we'll drop a new FUN10, to give you a head start on your week and a heads up on what's going on over the coming seven days. Check out FUN10 every Sunday for the details on ten awesome events happening around town. It's a cool read, and a great way to get started planning your entertainment for the week.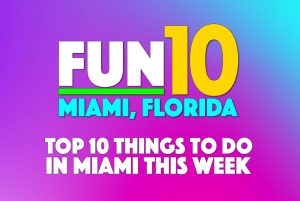 Due to the cancellation of so many regularly scheduled events in Miami – with more coming in every hour – we're focusing this week's edition of Fun10Miami on fun entertainment you can enjoy in the safety of your own home or while practicing safe 'social distancing'.
FUN10 — ten ways for you to have fun in Miami, this week and every week, running every Sunday, only on your site for fun, free, local entertainment, On.Miami!
So what's on the FUN10 for this week? Read on …
24 Annual Festival Yachad Goes Virtual
Join Bamachol Dance Program for their 24 Annual Festival Yachad Gala Performance!
This is their first ever virtual performance, and will take place on Tuesday, May 26 at 7 PM.
Amazing music, dances and of course being able to watch it from the comfort of your own home. Don't miss out!
Click to watch: https://www.facebook.com/BamacholDanceProgram/live/
Virtual Live@Frost Science: It's All Elemental
The LIVE@Frost Science speaker series has been transformed into a new virtual offering, every Wednesday at 2 p.m. on Facebook Live.
Join Frost Museum this Wednesday May 27 at 2 p.m. for this week's program, It's All Elemental.
Featured Speaker: Leslie Knecht, Ph.D., Senior Lecturer, Department of Chemistry, College of Arts and Science at the University of Miami
From hydrogen to oganesson, the periodic table of elements is a fascinating tool filled with scientific breakthroughs, hidden patterns, and amazing discoveries. Join Dr. Leslie Knecht as she takes us on an exciting journey through the evolution and key times of the scientific history for this game changing tool, leading to a powerful and iconic system that is fundamental to our understanding of the world around us.
Musical Improv Workshop Online
Villian Theater presents Musical Improv Workshop on Zoom, Wednesdays from 8 – 10 a.m., beginning this Wednesday May 27.
This 6-week course focuses on music theory, vocal health, and performing through song.
Priscilla Blanco works and performs throughout South Florida as a music director, teacher, accompanist, and improviser.
She attended FIU for her undergrad and graduate studies in music education. She has worked on productions like Rent, Violet, Legally Blonde, Songs for a New World, Hunchback, and most recently Chicago at the Carnival Studio Theater at the Adrienne Arsht Center. Her students have attended schools like UM, Boston Conservatory, Berklee College of Music, UNCSA, amongst others.
Learn music theory and work on solo performance pieces with an experienced instructor. This class is open to all experience levels and participants nationwide.
SIGN-UP:
Visit www.villaintheater.com/musicalimprovonline to sign up!
The entire course is $250. Payment plans divide the total cost into 4 payments of $62.50 charged every two weeks. To access a payment plan, visit www.villaintheater.com/installments-full
CLASS SCHEDULE:
Class 1: May 27, 2020
Class 2: June 3, 2020
Class 3: June 10, 2020
Class 4: June 17, 2020
Class 5: June 24, 2020
Class 6: July 1, 2020
Enjoy a Girls Night In with Taste Buds Kitchen
Taste Buds Kitchen is so excited to bring you their brand-new online cooking classes!
Artisan pizza fresh from the oven? Yes, please! Join us as we learn the secret tricks behind working with yeast and preparing dough from scratch, shaping dough and creating a variety of thin-crust pizzas. Once you see how easy and delicious homemade pizza can be, you may think twice before ordering delivery again. Bring your own ingredients and beverage of choice. Let's have fun in the Kitchen and learn something new as we #stayhome!
-Handmade Pizza
-Caramelized Onions
How This Works
Live Online Class: This class is offered online as a live cooking class. We'll be sharing the same amazing culinary entertainment you'd get if you were in our Kitchen, except you can be in your jammies (no judgement here). Ask questions, take notes, and have our owners Beatriz and Laura answer you LIVE from their Kitchen in Miami. We promise it'll feel a whole lot like you're in our Kitchen and you'll be practicing safe social distancing as we all #stayhome. At the end of the class, we'll all "sit down" (virtually of course) to savor what we've made. We can't wait to cook with you soon!
Shopping List: After registering, you will receive a confirmation email that includes a short shopping list along with the recipes so that you can purchase what you need to actively participate. If you can't find all of the ingredients, you can still join the class and either omit that ingredient or just enjoy learning along with us. If you have specific questions about allergy or other substitution requests, please email miamiwest@tastebudskitchen.com and we'll be happy to help you.
Accessing the Class: You will need to download the free Zoom app onto your desktop, tablet or phone before the class. After registering, you will receive a separate email that includes a Zoom link to our online class. We recommend joining from a laptop to see better but tablets work just fine as well. Please have all of your ingredients ready and equipment ready/fully charged and your recipes open (or printed).
BYOB: Our classes are BYOB (in our Kitchen and at-home) so please have whatever you'd like to drink in hand. 🙂 It's going to be so much fun!
Spread the Word: Please help us to spread the word to your friends and family. We'd love to have them cook along with us! 100% of the proceeds of all online classes will go towards offsetting fixed overhead costs during this difficult time due to COVID-19. #supportsmallbusiness #TBKatHome
Want a private class for you and your friends, a fun team-building corporate zoom call, a date night private lesson just for you and your plus one or a private family class? We'd be happy to host you! Email miamiwest@tastebudskitchen.com to arrange.
Live Virtual Local Views at PAMM: Monica Sorelle
Join Perez Art Museum Miami digitally for their tour program, Local Views at PAMM, where select local artists will speak about a few works of art currently on view at the museum and their own artistic practice. This week, Monica Sorelle will lead the tour on Facebook Live and YouTube Live. Subscribe to our YouTube channel.
Local Views at PAMM gives visitors a first-hand virtual interaction with local artists by creating conversations centered around art and the creative process. While the museum is currently closed, this casual 30-minute conversation takes place in a virtual setting every Thursday.
* Our mission to encourage everyone to see art as an incentive for genuine human interaction, communication, and exchange, is needed now more than ever. Support PAMM with a 100% tax-deductible gift: pamm.org/donate.
About Monica Sorelle
Monica Sorelle is a Haitian-American filmmaker based in Miami. She is a member of Third Horizon, a creative collective dedicated to developing, exhibiting, and distributing work that gives voice to stories of the Caribbean, its diaspora, and other marginalized and underrepresented spaces in the Global South. She was an inaugural fellow of New Orleans Film Society's Southern Producers Lab in 2018, and among her recent producing credits is the short film "T", which won the Golden Bear for Best Short Film at the 70th Berlinale in 2020. in 2019, Sorelle began writing her feature directorial debut as a Cinematic Arts resident at Oolite Arts.
Comedy Extravaganza at "The Spot"
COMING TO "THE SPOT" STUCK SMILIN' Presents: Stand up comedy extravaganza!
This event starts at 6pm at the Miami City Mission Youth Center (3027 NW 7th Ave Miami).
Come watch some of your favorite comics try out some material! This will be going along side "Vendor Day" at "The Spot" where vendors from all around south Florida will be there with hookah, food, drinks, comedy & more!
RULES:
EVERYONE: For everyone's safety you must have a mask or face covering to enter (they can be bought at the event)
COMICS: THE LIST IS FIRST COME FIRST SERVE
This is a curated open mic– with slots going from 6pm to ??
You have until Wednesday, May 23rd, at 12am to message "Sean Mullins" in order to structure the time slots according to how many comics we have and how much time everyone wants to do/where they want to go. I will be releasing a google sheet Wednesday May 23rd, with the full schedule of comics.
PLEASE ONLY SIGN UP IF YOU HAVE THE FULL INTENTION OF SHOWING UP, IT IS TIME SLOTTED FOR EVERYONE'S SAFETY AND CONVENIENCE.
While we do want everyone to come out and support your other comics, we also understand the health risks and how some people are just taking a risk going outside, which is why we have the curated open mic list so time slots are visible and you can plan accordingly.
THE LIST IS FIRST COME FIRST SERVE
64th 1/2 Annual Miami to Key Largo Race
The Miami to Key Largo Race (MKL) and Key Largo to Miami Race (KLM) are open to all boats 14ft & over that submit a completed entry form. Entries should be submitted on www.yachtscoring.com
May 27, 2020 6:00 PM entry deadline
Absolutely NO entries accepted after 6:00 PM May 27, 2020
May 28, 2020 (Thursday)
12 PM – 8 PM Packet pick up @ MYC
7:00 PM Skippers' meeting via Zoom
May 29, 2020 (Friday)
12 PM – 8 PM Packet pick up @ MYC
May 30, 2020
8:00 AM start Miami Key Largo Race
June 13, 2020
7:00 PM Awards ceremony via Zoom
TBD Award party at MYC to be scheduled when safe.
Visit https://www.facebook.com/events/2794873533885095/ for more information.
Up Close and Personal with Oliver Gee of The Earful Tower
Oliver Gee, the host of the popular Paris podcast The Earful Tower will talk about Paris this Saturday May 30 at 11 a.m. on Zoom.
"Wherever you are in the world, forget about that now, close your eyes … and imagine that you are being transported into the eighth arrondissement of Paris," says Oliver Gee, the host of the popular Paris podcast The Earful Tower. The podcast has 60,000 downloads per month and was recently lauded by the New York Times as a great way to travel by ear.
Originally from Australia, Oliver has lived in Paris since 2015. Paris On Air, a memoir telling the often laugh-out-loud stories from his past five years in the French capital, is his first book.
Check his website https://theearfultower.com/2020/04/22/paris-on-air-now-available-in-the-us/
You can join a live virtual meeting with Oliver on Saturday, May 30, at 11 am via Zoom. It will be mostly in English with a smattering of French terms. Oliver will show us the view of the Eiffel Tower from his Montmartre apartment, and he'll share readings from his memoir.
Look for a lively Q&A session with our own Director Russell Kelley, where he shows his tips of Paris, the language, and more!
Registrants will receive an exclusive discount code for a hot-off-the-press copy of his memoir, which ships from Seattle in just days. The discount reduces the price of the paperback book from 25 euros to 20 euros.
The Zoom link will be sent out on Saturday, May 30.
For more information, please visit https://www.facebook.com/events/570844310511541/.
Hero Hype Miami 2020
The 8th Annual Hero Hype Miami will take place this Saturday May 30 from 10 a.m. – 6 p.m. at DoubleTree by Hilton Hotel Miami (711 NW 72nd Ave Miami)
#HeroHypeCon will feature cosplay, gaming, comics, anime, laser tag and more.
Tickets & exhibitor info visit www.herohype.com
Epilepsy Florida's Statewide Virtual Triathlon 2020
Walk-a-thon? Jump-a-thon? Dance-a-thon?
Or something more?
Pick your choice to support our epilepsy cause!
So thankful that we are all safe at home. Yet, with the uncertain times and outdoor events being postponed remember epilepsy can't be postponed. Help us by supporting our continued efforts to assist those living with epilepsy.
Walk, jump, dance or do anything that makes you happy during quarantine. Show us your moves and support those living with epilepsy and their families. Get your family moving and active for a good cause.
You are not alone because we're in this together!
** Let's get movin' with Epilepsy Florida on May 31st, 2020! **
Join us for our inaugural statewide virtual walk award ceremony via Zoom on May 31st.
Contest will run May 1-26 because 1 in 26 people will develop epilepsy at some point in their lifetime. May 26th is the deadline for submissions to be included in the tally.
*Contest details below*
Have fun and raise funds for a great cause!
Official fundraiser will run from:
May 1-26 (1 in 26)
•2 Ways to Fundraise: Sign up as a Virtual Walker on our walk website or create a Facebook fundraiser
•**OPTIONAL**
Create a Video:
Walk, jump, dance or whatever makes you happy.
-Show your spirit and wear your best purple outfits. Get creative!
-Video should include name, team name, city you are in and name of person living with epilepsy you wish to support. (Can be a sign, banner, shirt, etc.)
-Video could be 1-3 minutes in length.
-You can add more than one video.
Video Submission
– Send Epilepsy Florida your video via email to mgomez@epilepsyfl.org. Include team name, participant name, whether you signed up on our website or have a Facebook fundraiser benefitting Epilepsy Florida. Include your facebook fundraiser URL.
Award Ceremony via Zoom on May 31 @ 1pm-2pm
•Awards:
– Top Fundraiser per region (does not require video submission)
– Best Statewide Video
– Most Spirited per region
For more information, please visit https://www.facebook.com/events/229374578160890/.
Stay tuned to On.Miami, your site for fun, free, local entertainment for upcoming events in our weekly column, FUN10, every Sunday!
#Fun10Miami
Tess Abney is a freelance writer who was born and raised in the Quad Cities. She spends most of her time attempting to successfully raise three boys. In her free time, writing is her passion. Whether it is sharing local events and businesses with readers or sharing her thoughts on life, she finds comfort in the way words can bring people together.