10 Fun Things To Do Week of May 31st: Shopping, Art, Music and MORE!
On.Miami proudly presents our newest feature, FUN10, a list of the top 10 things to do in Miami this week, and every week! Every Sunday, we'll drop a new FUN10, to give you a head start on your week and a heads up on what's going on over the coming seven days. Check out FUN10 every Sunday for the details on ten awesome events happening around town. It's a cool read, and a great way to get started planning your entertainment for the week.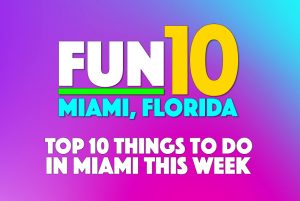 Due to the cancellation of so many regularly scheduled events in Miami – with more coming in every hour – we're focusing this week's edition of Fun10Miami on fun entertainment you can enjoy in the safety of your own home or while practicing safe 'social distancing' while the state begins to open back up.
FUN10 — ten ways for you to have fun in Miami, this week and every week, running every Sunday, only on your site for fun, free, local entertainment, On.Miami!
So what's on the FUN10 for this week? Read on …
Intro to Improv Basics
Join Just the Funny Improv Comedy for an Intro to Improve Basics – Livestream, beginning this Monday Jun 1 at 8 p.m.
The cost of the class is $100 for ages 17 and up.
This 4-week workshop focuses on improvisational acting. Learn the techniques to improvise scenes and characters for auditions, ad-libbing, or just to sharpen your acting skills, in Miami's most popular improv class! Improv Classes have also been known to benefit individuals in the following areas: Confidence Public Speaking For performers, complements their acting skillset Comfort in Social Settings Brainstorming Abilities Listening and Observation Decision-Making Team Development.
Anyone completing this workshop will receive a $100 discount on Improv Acting 1 that takes place at 3119 Coral Way in Miami.
*****SPACES ARE LIMITED! REGISTER TODAY!*****
Note: All sales are final. This workshop will take place exclusively online through a private Zoom videoconferencing room, and is being offered at a discount to normal in-classroom rate.
Register today at:
https://www.ticketweb.com/event/intro-to-improv-basics-just-the-funny-tickets/10588865?REFERRAL_ID=twfb
At-Home Gingerbread Kit: Summer Beach House
Introducing Taste Buds Kitchen NEW at-home DIY Summer Beach House Kit!
Summer is finally here! The sun is out and the sand and sea are calling. Let's rejoice in culinary style by decorating a super sweet summer-themed Beach House. Let your creative chef kick off thier shoes and celebrate #summer2020 by ordering one of these at-home gingerbread kits today.
Each kit includes:
One freshly assembled gingerbread house
Piping bag of meringue royal icing
Assorted beach-theme candies for decorating
All safely prepped and wrapped in cellophane
Step 1: Order HERE
Choose your delivery window, the number of kits you'd like to purchase and any fun add ons. Be sure to include your full address.
Step 2: Your Kit is Delivered to Your Door!
Your Summer Each House gingerbread kit will delivered to within the 3-hour window you selected. We will ring your doorbell and place the kit on your doorstep. To be eligible for delivery, you must be located within 10 miles of our Beverly kitchen address.
We hope you enjoy this festive and fully-edible craft at-home while we anxiously await welcoming you back into the kitchen for our cooking classes and events for all ages on June 22nd!
Happy Summer!
We greatly appreciate you #supportinglocal during this time. Please help spread the word!
Coast 2 Coast LIVE Online Showcase
Join Coast 2 Coast LIVE this Tuesday Jun 2 from 3 – 5 p.m. for a Coast 2 Cost LIVE Showcase!
Submit to perform at: http://c2c.fm/x5CHz6
The largest artist showcase in the world is now online! Artists can submit a video to play for our industry judges and their fans can tune in on Instagram and Facebook to watch! Artists who get 2 passes from 2 of the 3 judges, move on to compete in the championship in Miami for $50,000 in prizes!
Featured Judges:
SHAWN BARRON (VP OF A&R AT MOTOWN/CAPITOL RECORDS)
https://instagram.com/shawnbarron
https://twitter.com/shawnbarron
KATE LOESCH (A&R AT CAPITOL RECORDS)
https://www.instagram.com/_killakate_/?hl=en
https://twitter.com/_killakate_
ANDREW GRANT (A&R AT WARNER MUSIC GROUP)
https://instagram.com/yougotgrant
For more info on World Championship Visit: https://worldchampionship.coast2coastlive.com/
Creative Jam: Better Work Through Play
Presented at Venture Cafe Miami Virtual, experience Creative Jam: Better work through Play this Thursday Jun 4 from 6 – 7 p.m., online.
Play is a leading motivator in why we work. It's also good business! Learn what play can unlock for you.
When was the last time you smiled? Played? Or just felt lighter?
According to the Harvard Business Review, *play* is actually a leading motivator in why we work. The most innovative companies also know that play is good business! Whether you work alone or with a team, play is the bedrock of high-performance results.
Creativity expert and business coach Marte Siebenhar leads you through a session where you'll:
-Reconnect with a feeling of lightness and freedom
-Activate your inner sense of play
-Walk out with action steps to play regularly to enhance your work and life
All are welcome to this interactive online session. Bring a clean sheet of paper or journal and your willingness to play, connect, have fun, and get inspired.
For more information, please visit https://www.facebook.com/events/536209357064411/.
Moksha Arts Collective Presents Lunatech
Moksha Arts Collective presents "Lunatech" this Friday Jun 5 at 7 p.m.
Affected with periodic lunacy dependent on the changes of the moon, a fine delegation from Miami's cutting edge artists bring their technologically-infused craft to inspire and entertain you during the June 5th, Strawberry Full Moon.
Moksha continues to provide ways to connect with community through the arts. We can still share in a group experience as we tune in together for this free live transmission on FaceBook live and Youtube.
You can also watch the show in the new "Moksha VR Gallery 2020" pyramid on the VRChat platform, where you can interact with others and view the art on display in our constantly evolving gallery as the performers are going live.
Links to streams will be posted soon!
We are adapting our season of events to these types of live streaming concerts in an effort to carry out our commitment to support Miami's artistic community with professional multi media experiences. In time, we will offer other specialized programs to provide diverse outlets for creativity while observing precautionary social distancing.
DONATIONS are gladly accepted. All revenues go towards keeping artists and technicians working in these times.
paypal.me/MokshaArtsCollective
The Moksha Arts Collective is presenting this concert with the appreciated support of the Miami-Dade County Department of Cultural Affairs and the Cultural Affairs Council, the Miami-Dade County Mayor and Board of County Commissioners.
For more information, please visit https://www.facebook.com/events/241884877068907/.
DRIP Artshow Miami – The New Visual Gallery Experience
Join DRIP ARTshow for The New Visual Gallery Experience this Friday Jun 5 at 7 p.m.
This traveling art & music experience supports visionary creatives who share our values of authenticity, creativity, & individuality. This New Visual Gallery Experience blurs the line between artist & audience and collectively, creates a positive & safe environment for creative empowerment, expression, and inspiration. It is our mission to connect and inspire emerging artists & communities. Please join us in helping to inspire the art culture!
Featuring
+ 30+ Emerging Local Visual Artists
+ Live DRIP Tattoo and Body Painting Experience
+ Live DJ & Music Sets
+ Uniquely Curated Vendors
+ Topshelf Bar & Food
Are you #DRIPAPPROVED
#MiamiArtist #upcomingartist #digitalartist #tattooartist #graffitiartist #graphicartist #instagramartist #visualartist #miamievents #upcomingevents #DRIPArtShowMIA #DRIPArtShow
SUPPORT THE CREATIVES!!
We are supporters of the creative and we bring together some of the best artists across the world. Although this is a remarkable experience, it is still and Artshow and All artwork is for sale and all sales belong 100% to the artist and no commission fees are taken.
Are you a local artist looking to exhibit your work? Please visit our website (www.dripartshow.com/submit) to submit your artwork or email us at info@dripartshow.com for further information.
Instagram: www.instagram.com/drip.artshow
Art Submissions: www.dripartshow.com/submit
Email: info@dropartshow.com
Cello Sounds: Bi-Monthly Concerts
John Thomas Mesa for Cello Sounds: Bi-Monthly Concerts this Saturday Jun 6 at 6 p.m.
This will be the second livestream concert Cello Sounds: Bi-Monthly Concerts. New and old music in front of a fireplace for an early Saturday evening. This time, it will be on all platforms: Instagram, Facebook, and YouTube!
EVENT LINK: https://youtu.be/ymauGlwDRQs
Tour Tropical Audubon's Historic Doc Thomas House
Join the Tropical Audubon Society for a Tour of the Historic Doc Thomas House this Saturday Jun 6 at 1 p.m.
Visit the historic Doc Thomas House for a captivating, 45-minute guided tour led by a Tropical Audubon Society docent. Learn about the Birds' benefactor Arden Hayes "Doc" Thomas and Robert Fitch Smith, the architect Thomas commissioned to design the house. Tour the distinctive, wood-and-limestone structure with its many ornamental and built-in features. Listed in the National Register of Historic Places, named a Florida Heritage Site and designated a Dade County landmark, the charming 1932 cottage is an architectural gem. Gain insights into local South Miami and Audubon history, too. Visitors may also take a stroll through our Steinberg Nature Center pollinator gardens and nature trails, weather-permitting.
Save the dates: First Saturdays of the month through June 2020.
Times: 1pm & 3pm Tours / House and Grounds Open 12:30-4pm.
Location: 5530 Sunset Dr. Miami, FL 33143
Free parking via the SW 55th Avenue Gate.
Admission FREE: Donations Welcomed
For more information, please visit https://www.facebook.com/events/504919546973321/.
1NSIDE/out Virtual Tour
The 1NSIDE/OUT tour is a series of live stream events that are taking the place of regular shows that AL1CE would have played previous to the COVID-19 crisis. Instead of completely cancelling our tours, we decided to go completely virtual and schedule multiple weeks worth of live streaming events, every day.
We are also using it as a chance to raise funds for the bands, promoters, and venues that have suffered from the complete shutdown of live venues.
You will be able to catch our live stream on most major social network platforms, but definitely make sure to tune into our twitch page to catch every act, as it happens, in real time.
Stream the entire event @ http://twitch.tv/al1cetv
Also, we are streaming on the following platforms:
https://facebook.com/ilikealice
https://instagram.com/alicemusicofficial
https://www.youtube.com/c/AL1CE
AL1CE and Night Moves Pensacola Presents:
DESERT OF THE REAL – melting faces and blowing minds far and wide
https://www.facebook.com/DesertOfTheRealBand/
https://www.desertofthereal.rocks/
October Noir – Rock, Goth, Doom, Metal
https://www.facebook.com/OctoberNoirMusic/
https://www.freewebstore.org/octobernoir
Please join in this Tuesday Jun 9 at 7 p.m.!
Shops at Merrick Park Start to Re-open!
Shops at Merrick Park is excited to announce that we can once again come together and see our community thrive! Welcome back!
To view a full list of stores currently open as well as safety measures in place, please visit https://www.shopsatmerrickpark.com/.
Let's get shopping!
Stay tuned to On.Miami, your site for fun, free, local entertainment for upcoming events in our weekly column, FUN10, every Sunday!
#Fun10Miami
Tess Abney is a freelance writer who was born and raised in the Quad Cities. She spends most of her time attempting to successfully raise three boys. In her free time, writing is her passion. Whether it is sharing local events and businesses with readers or sharing her thoughts on life, she finds comfort in the way words can bring people together.