Virtual Comedy Open Mic at Villain Theater
Social distancing can't stop the stand-up comedy! The fact of the matter is that we won't be able to perform on stage for a while, so here is your opportunity to test out the virtual arena. Those who display strength on this medium *will* have the potential for future bookings for digital shows.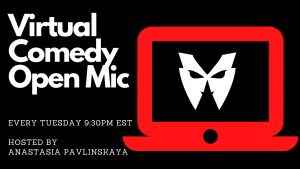 How does it work?
1)Every Tuesday at 1 PM Villain Theater will drop the link to a slotted.co sign-up page on their Facebook page, as well as on their social media channels
2) You will sign up (spots are limited)
3) You will confirm your email (important to secure your spot)
4) You will receive a Zoom login code
5) You will sign on at 9:10PM
6) You will perform!
Q+A
Q: What if I just want to watch?
A: You are more than welcome to watch if you aren't performing, actually we encourage it! All of our streams are on Youtube.com/VillainTheater
Q: Will my set stay up forever?
A: This has varied, but please let us know if you *do not* want your video to stay up, we will make sure to edit it out or unlist the link entirely (case by case)
Q: How much time?
A: 5 minutes, we'll give you a heads up in the zoom chat when you have 1 minute left
Q: Do I have to keep it clean?
A: No, but remember your mom could be watching, but she could also curse like a sailor too. Who knows! Ahoy! (but def no hate speech, that's not cool)
Q: Do I need any specific technical gear?
A: If you have a ring light or mic, that's dope. BUT, a nearby lamp and your phone/laptop mic works too. Just make sure we can SEE and HEAR you. That's why we have you log on early.
Please message Anastasia Pavlinskaya if you have further questions
---
For more fun things to do in Miami this week, check out the latest issue of Fun10Miami. 
Tess Abney is a freelance writer who was born and raised in the Quad Cities. She spends most of her time attempting to successfully raise three boys. In her free time, writing is her passion. Whether it is sharing local events and businesses with readers or sharing her thoughts on life, she finds comfort in the way words can bring people together.